Small and medium size of blast room
Industrial small and medium blasting facilities can provide tremendous benefits to your manufacturing operation such as pre-engineering steel building, automotive assembly factory, mechanical supporting industries…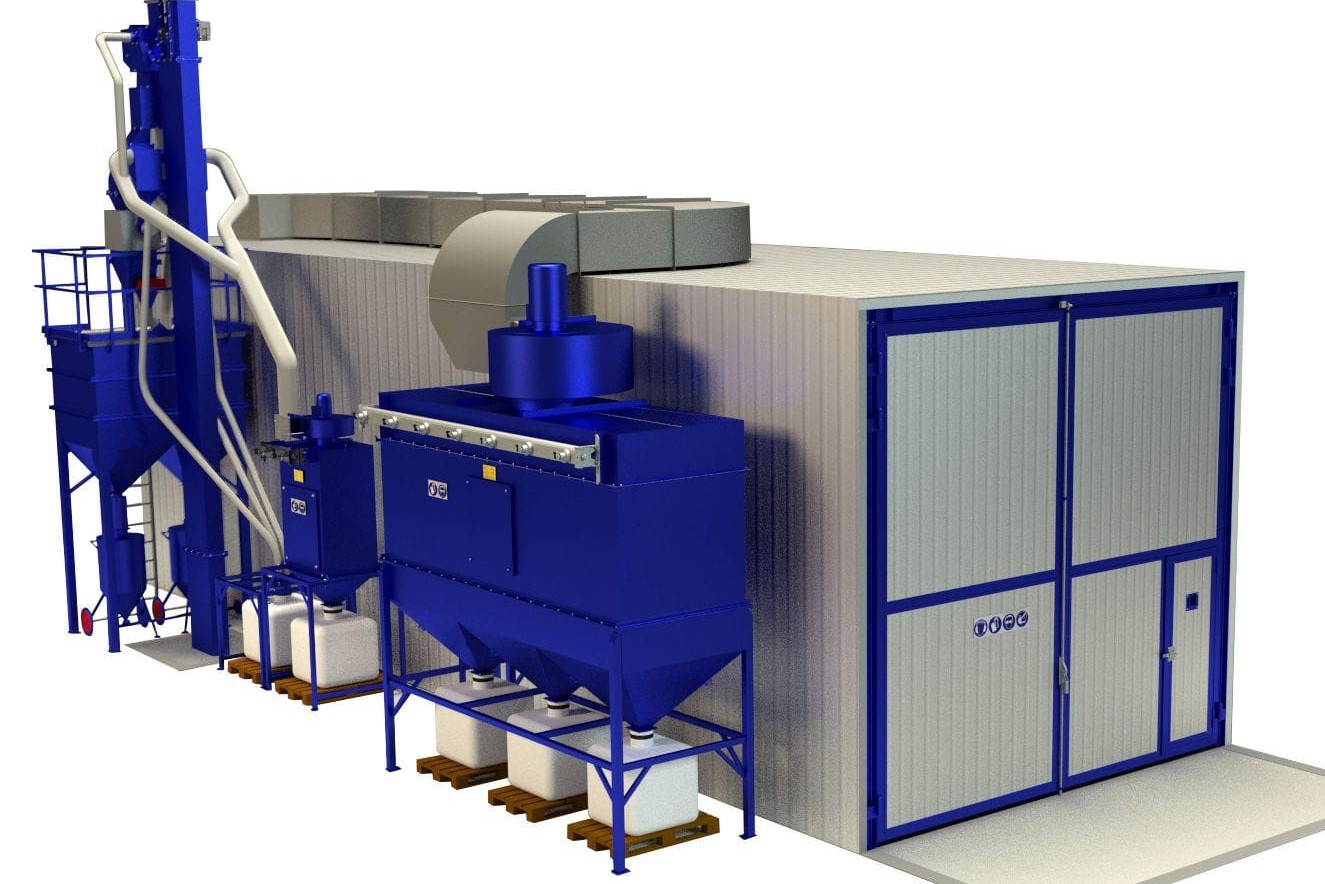 The small and medium size blasting room requiring no foundations, dedicated to surface preparation and finishing of small and medium-size work pieces from a few to several meters in length.
Additional, It can allow you to improve your facilities blast production and save on blast media cost and also can be costly so it is important to understand all the factor to consider when evaluating a blast room to determine what makes sense for your blast needs.
MRO has more than 15 years' experience in offering Surface Treatment Solutions in Vietnam. MRO equipment is used in some of the World's harshest environments in industries as diverse as Metal & Steel Construction, Shipbuilding, Petrochemical, Oil & Gas, Wind Energy and more.
A blast room will save you money
Simply switching from expendable to recyclable abrasive used with recovery and abrasive cleaning equipment can produce significant savings. Recyclable abrasives, such as steel grit can be used 200 or more times.
An efficient blast facility for small, medium, or large work pieces can pay for itself in media savings alone, sometimes in less than one year.
Components of an effective small and medium blast facility
1- Blast room
2- Abrasive
3- Grit recovery system
4- Blasting equipment
5- Dust collector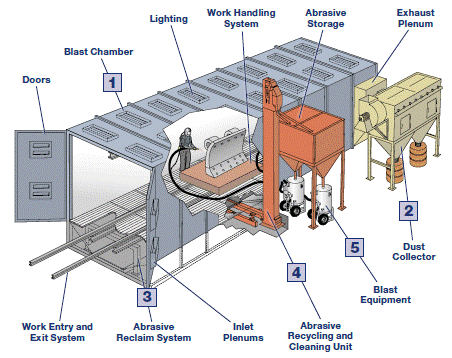 Blast room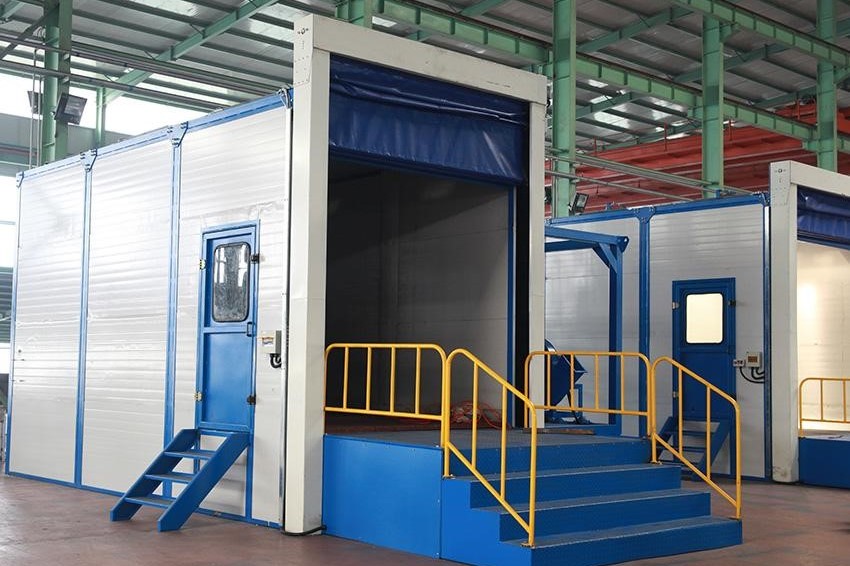 The small and medium size blast room has a steel frame. A thick sandwich element is placed inside the steel frame. This makes for a sealed room structure. The internal walls are lined with wear-proof rubber. The structure provides good sound-proofing; noise level outside the room is below 80 dB(A). The room can be fitted with doors at both ends, allowing for pieces to be transported through it. Pieces can be transported into the room using an overhead trolley or forklift.
Abrasive

The recovery system catches and transports spent abrasive for cleaning and reuse. It is the heart of the blast room system, and the key to efficiency and return on investment.
Often there is confusion when specifying abrasive. Grit is angular with defined edge for cutting peak and valleys into blast surface. Shot is round and produces a dimpled surface. To make the most of your investment, use abrasives specifically manufactured for blasting that provide multiple blast cycles.
Grit recovery system
The grit recovery system is high efficiency of performance. Separating dust and fines from reusable media affects the cost per media cycle and the life expectancy of the dust collector filters. Too much reusable media carried over to the dust collector wastes media and prematurely wears cartridges filter. The rate of recycling depends upon the type of abrasive being processed.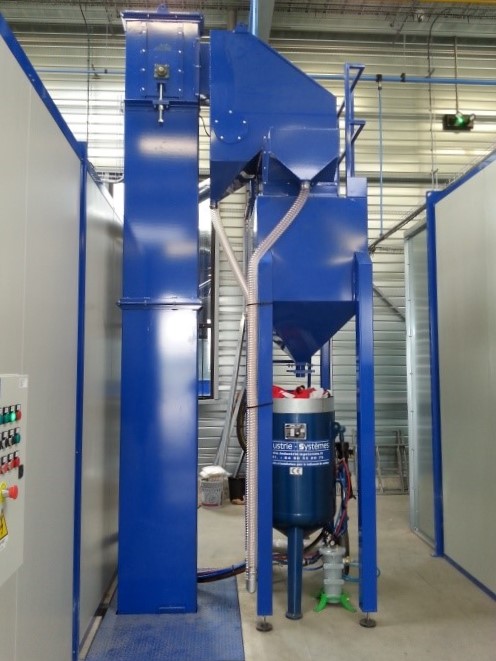 Blasting equipment
Blasting Pot is a pressure vessel used as part of an abrasive blasting system to deliver a mixture of abrasive and compressed air to a work surface. Our blast pot is designed with added features to enhance work site safety. All Blasting Pots are manufactured using higher quality materials that resist wear, reducing costly downtime and increasing production rates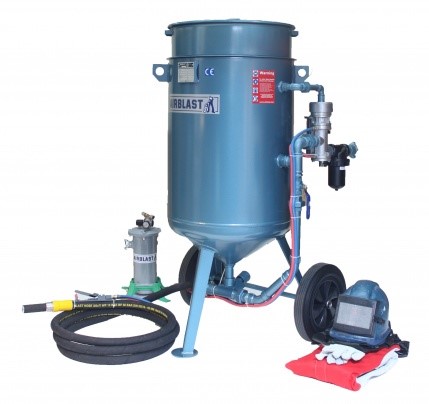 Dust collector

The DC Series Cartridge Type Dust Collectors are extensively used worldwide. They are equipped with advanced filtering devices and dust removing devices with optimum working performances. Our technicians have abundant professional knowledge and will forward with you shoulder by shoulder –from analyzing your dust questions to help you design a set of dust removing system that will accompany your thriving businesses. Once you own this kind of equipment, our service network and high quality spare parts will ensure the optimum status.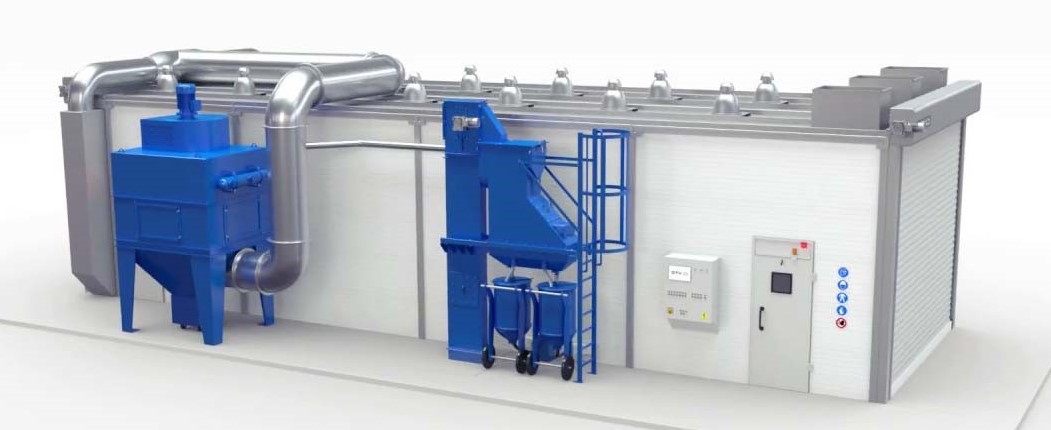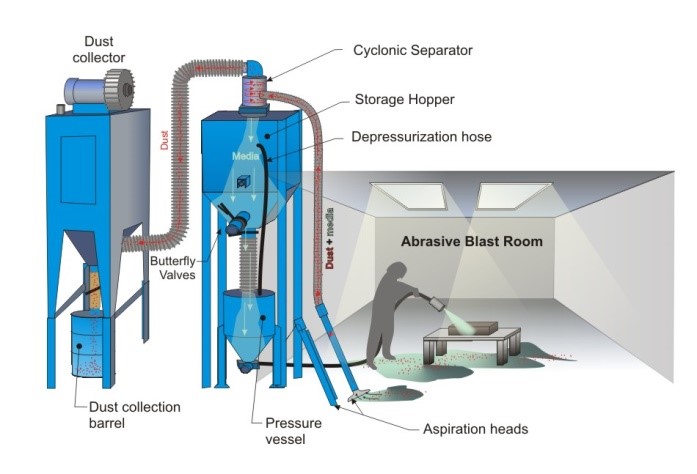 Please contact us using the tab above if you would like to find out more information regarding Small and Medium Blast Room Solution.